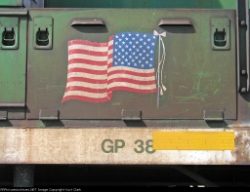 Welcome to the RRPictureArchives.NET contributor site of Kurt Clark.



Thanks for stopping by my page!




I'm a long-time railfan and life-long Pacific Northwesterner. Most of my photos are taken with a digital camera and posted on the Internet for fun and to document the movement of various equipment. While some of these pix might seem ho-hum now at the time they are taken, I think it's cool to see the same type of ho-hum photos about 10-20 years after they've been taken.

My son and I are big fans of The Milwaukee Road, which ran into Seattle and had a well used yard there (now owned by BNSF). I rode the Great Northern Empire Builder as a child, and I grew up around the Burlington Northern's green & black paint.Taking pictures of that equipment now, as the paint scheme fades away or gets painted over, is important to me. Visit my Wet Rails Blog that publishes at the Seattle-PI - http://blog.seattlepi.com/wetrails/.
Thanks for stopping by!



You may browse my collection of pictures via the menu located on the left hand side of the page. I hope you enjoy the collection and thanks for stopping by!
Note: This site is best viewed in Internet Explorer 6.0 or above.
Select one of the links from the menu on the left to begin browsing the collection.